SUP Yoga Classes in Cocoa Beach
Come feel the aloha spirit with SoBe Surf near Cocoa Beach, Florida. Our Cocoa Beach facility is located in the heart of Merritt Island—just blocks from our private launch into the Banana River Wildlife Sanctuary, a mere 3 miles from the ocean, and 5 miles from the Port Canaveral Cruise Ship Terminal. We offer unique, private access to the water with a safe launching area. You'll find a full-service experience with outstanding staff, great equipment and a perfect environment to build your stand up paddling skills.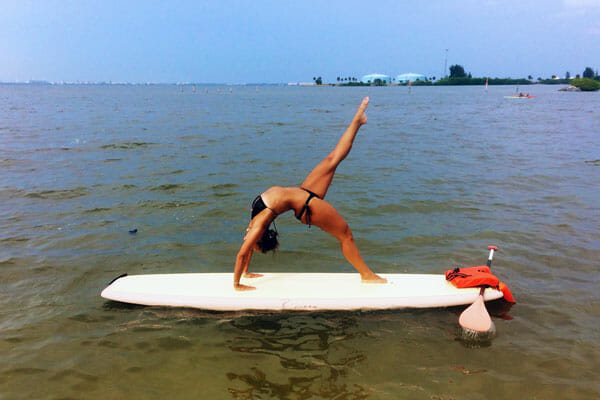 How to Book
To sign up for SUP yoga at SoBe Surf, simply call us at (321) 926-6271 or send us a note by e-mail at info@sobesurf.com. Class times are by appointment, based on your schedule. We look forward to talking with you soon!
Overview
Stand up paddle yoga is a great way to diversify your yoga practice, find daily inspiration, get fit and have fun! Classes are taught by a local yoga teacher. Bring your own equipment or use one of our high-quality SUP yoga boards. This is a fun and relaxing class that is sure to take your yoga practice to the next level.
To register for SUP yoga at Sobe Surf, simply call us at (321) 926-6271 or send us a note by e-mail at info@sobesurf.com. We'll answer any questions that you have and get you signed up at a time that works best for your own schedule. It's that easy!
Lesson Rates
See the table below for lesson rates. Discounts are provided for multiple lessons. Call us if you have any questions!
| Number of People | Bring Your Own Board | Class + Board Included |
| --- | --- | --- |
| Private / Single | $60 | $60 |
| Two or more | $30/person | $30/person |
Class Schedule
Yoga classes last for one hour and are by appointment. Choose a time that works best with your schedule!
What To Bring
Water
Towel
Warm Layer (e.g., hooded sweatshirt or fleece jacket)
After-session snack (optional)
Location
SoBe Surf's Cocoa Beach center is located on Merritt Island at 635 S. Plumosa Street. Have a look at the map below for directions. We look forward to seeing you here and having a great time in the water!
If you have any trouble finding us at our Cocoa Beach location, just give us a call at (321) 926-6571 and we'll be glad to help you out!
Please Note: We'll meet at our Merritt Island shop to sign in. From there, we'll head to the water at our private nature sanctuary access point, which is located just a few blocks down the street. A restroom and changing room is present at our shop and there are restrooms at the waterfront class location.
Get A Yoga Paddleboard
Sobe Surf is a dealer for Riviera Paddlesurf, which makes the Yoga Mat paddle board. This is the perfect board for combining stand up paddle and yoga. You can demo the Yoga Mat and purchase right at our location on Merritt Island. Read more on Riviera's website and come by to check it out!MSRP $1,100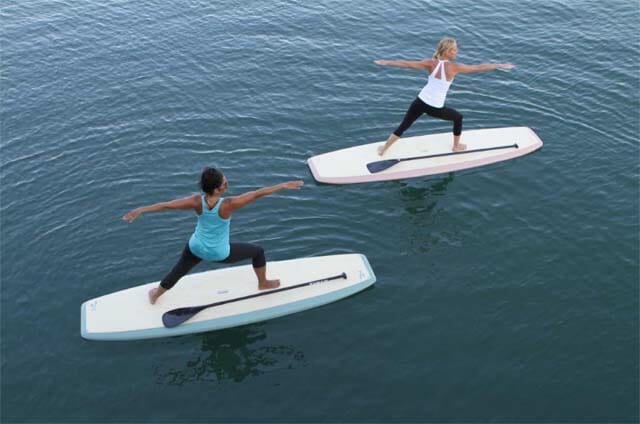 More Things We Offer in Cocoa Beach
Questions & Inquiries
Call us at (321) 926-6571 or send us an e-mail to get further information on lessons, rentals and tours in Cocoa Beach and Miami.