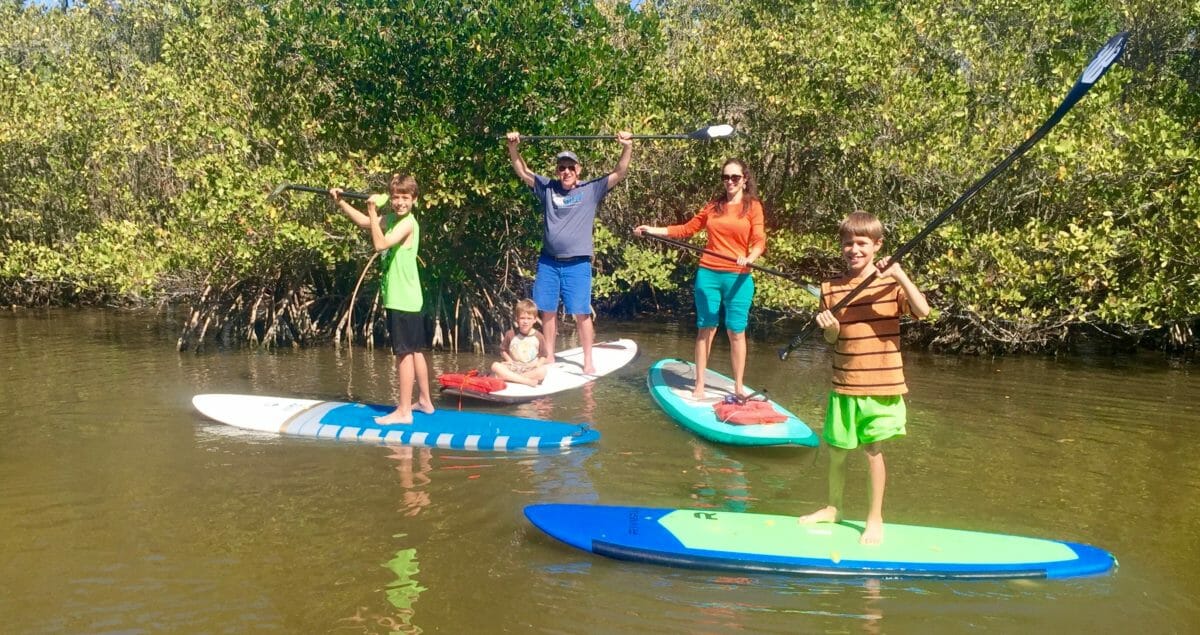 Stand Up Paddle Lessons Near Cocoa Beach
Our Cocoa Beach area stand up paddle shop is located in the heart of Merritt Island—just blocks from our private launch into the Banana River Wildlife Sanctuary, a mere 3 miles from the ocean, and 5 miles from the Port Canaveral Cruise Ship Terminal. We offer unique, private access to the water with a safe launching area. Call us at (305) 773-1142 or book online using a "Book Online Now" button on this page to schedule!
Beginner Stand Up Paddle Lesson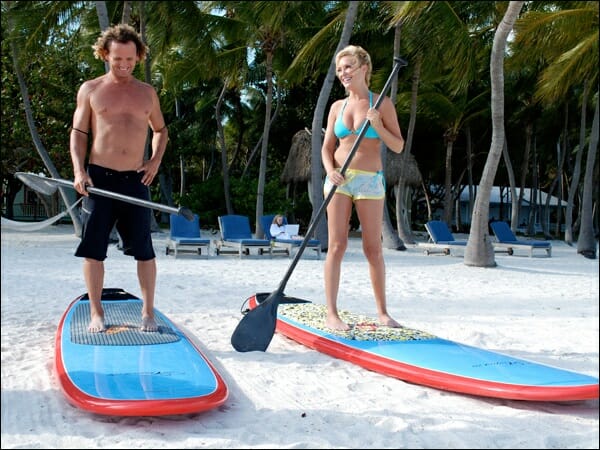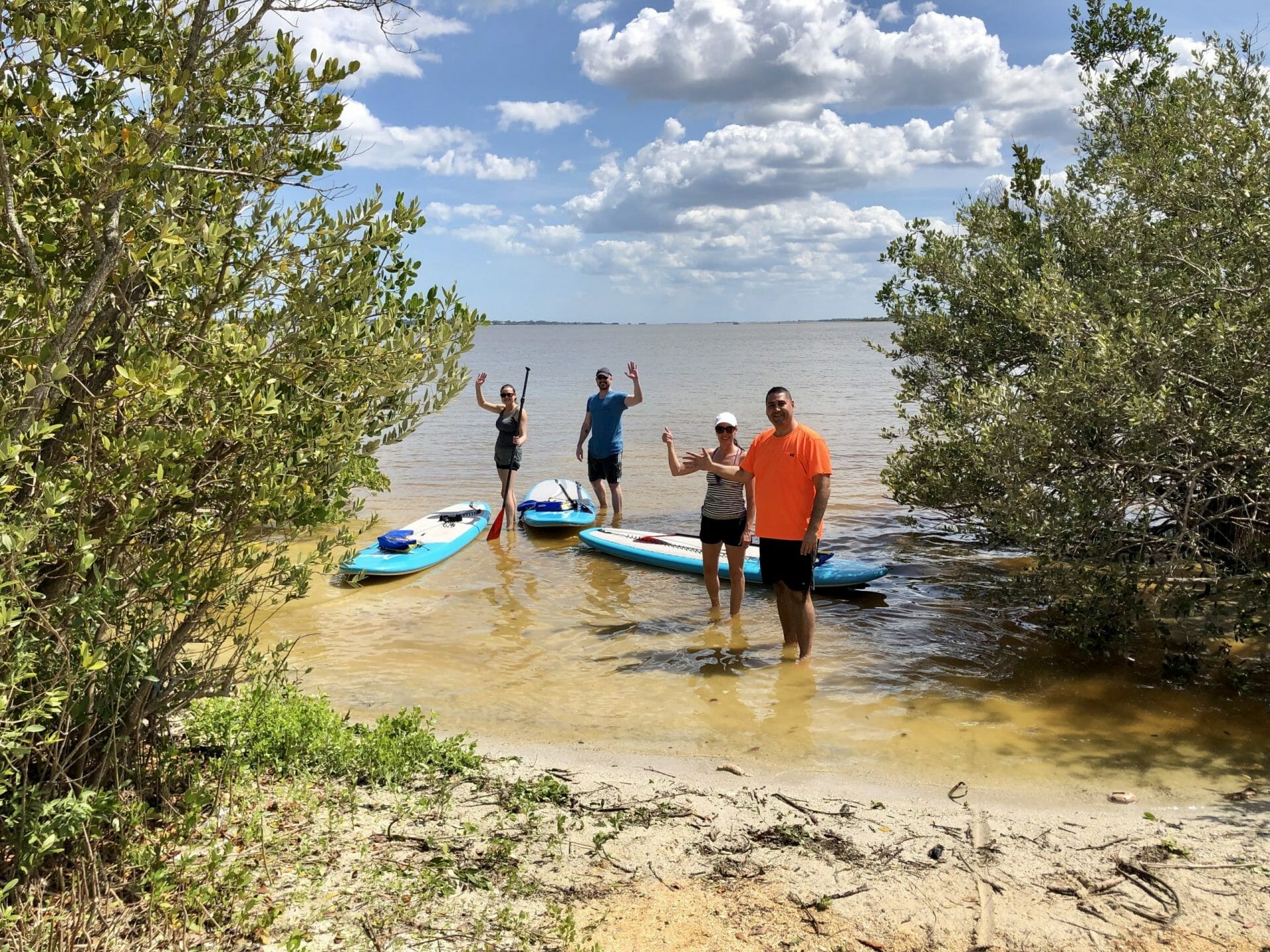 Learn To Stand Up Paddle
Sobe Surf is not the typical stand up paddle school. We give you premium equipment, personal service, expert instruction from local surfers and guides, and you'll have private water access right from our property.
Stand up paddle lessons are our specialty. Lessons are available on a flexible schedule, so we can set up a time that works for you. We do private lessons for individuals, small groups (2–10 people), and large groups (more than 10 people). Whether you are a first-timer wanting to try it out, a learning paddler seeking to build your skills, or an experienced paddler looking to improve race finish times or to surf better, we can get you there faster with helpful coaching and expert insights into the sport.
Prices
Lessons are $65/person. Includes 2 hours equipment use with 1 hour of expert coaching. Private 1 on 1 lesson is $75.
How To Schedule
Scheduling a lesson is easy and you can book online using the green booking button on this page. If you'd prefer, you can also call us at (305) 773-1142. Either way, we'll be glad to get you started!
Beginner Stand Up Paddle Lesson
Personal Coaching by Girard Middleton
If you're looking for the highest quality personal instruction and coaching experience to either get on your feet or take your paddle surfing to the next level, then you've found your trainer. Girard Middleton brings his years of experience as a full-time professional stand-up paddle surfer to his clients' location and provides them with the full benefit of his paddle boarding expertise and teaching style in a one-to-one or personal group setting. Available at our facility in Cocoa Beach or for trips to locations worldwide as schedule permits. Click here for more info!
Location
SoBe Surf's Cocoa Beach center is located on Merritt Island at 635 S. Plumosa Street. Have a look at the map below for directions. We look forward to seeing you here and having a great time on the water!
If you have any trouble finding us at our Cocoa Beach location, just give us a call at (305) 773-1142 and we'll be glad to help you out!
Easy Shuttle Access
Affordable shuttle access from Orlando and Port Canaveral is available from Happy Hour Shuttle. We are Just 7 miles  from the cruise ship terminal. Call them at (888) 601-6640 for rates and to make pick-up arrangements!
Testimonials
"Girard was a wonderful help to my two friends that had not paddled before. Great service and location. I would highly recommend Sobe Surf to anyone who lives in the area—or out-of-towners like myself—who want to paddle while in the area. Thanks Girard!"
Family, Group, and Local Discounts
Ask about discounts for families, large groups, teams, military, and locals. We'll be glad to help you out!
More In Cocoa Beach
Questions & Inquiries
Call us at (305) 773-1142 or send us an e-mail to get further information on lessons, rentals and tours in Cocoa Beach and Miami.
Ready To Go?
If you know what you're looking for and simply want to see the calendar, just click on the button below to view our complete schedule and to book online!