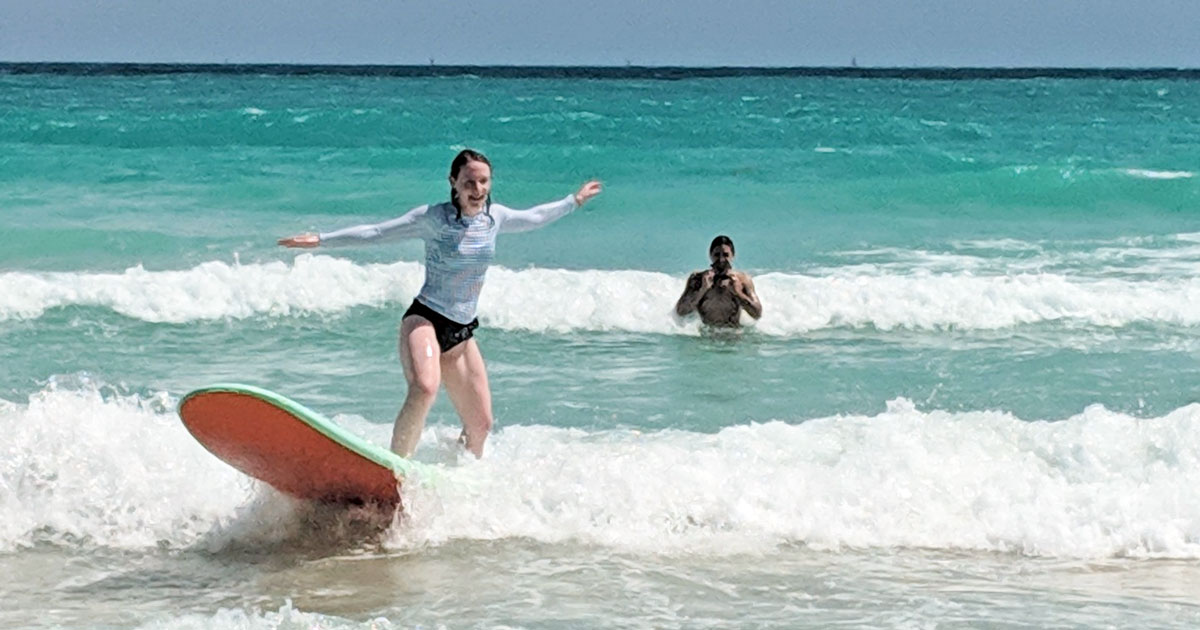 Surf Lessons in Miami Beach
Have you thought about surfing lessons and are ready to give it a try? Been wondering what it's like to stand on a surfboard, gliding on a wave, watching the turquoise blue water race by under your feet? Ready to have one of the best times of your life? Well, you've come to the right place!
Sobe Surf started out providing surfing lessons on Miami's South Beach in 2002, and it's what we still do after all these years! We're the leading provider of surfing lessons for all ages in the Miami area. If you are planning a trip to South Beach and would like to have an experience that you'll have good memories of for years to come, give us a call or book online below. We'll get you going!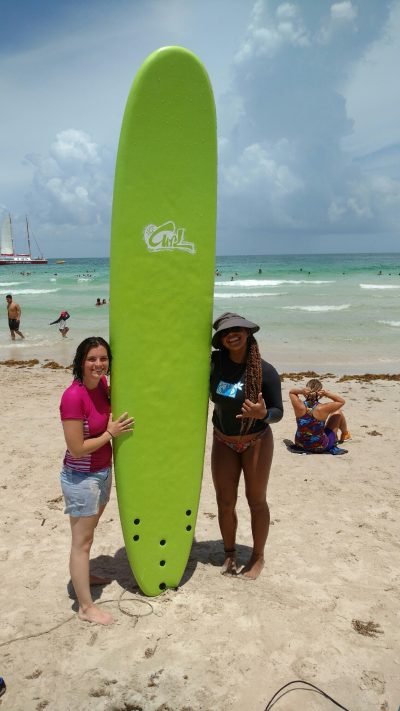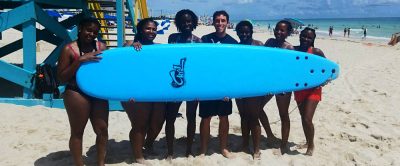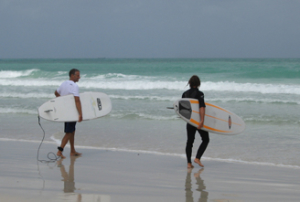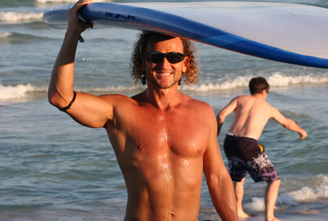 Why Choose SoBe Surf?
Sobe Surf is Miami's oldest and most respected surfing school. The staff is fully insured, certified, and maintains the highest reputation in facilitating healthy, positive and safe surfing experiences for our customers. All instructors are trained professionals carrying the Sobe Surf attitude of love, patience and a contagious enthusiasm for fun in the surf.
Our goal is to create an amazing surfing adventure and give you a healthy bonding experience for your family and friends. We take pride knowing that each customer's first ride is only the beginning. The lesson and supplemental information helps build a solid foundation so you can understand, appreciate and enjoy the sport of surfing for years to come.
Surfing is a fun, educational, and memorial experience regardless of your age or skill level. By the time we're done, we can only hope that each of our customers will embrace the sport like we have!
Surf Lessons include all the necessary instruction to have a great experience while learning to appreciate our oceans and understand the sport.
Complimentary guidance about boards, equipment recommendations, and further advice is always included.
Our instructors have years of experience in the water.
All experience levels welcome!
The Surf Spot
South Beach is a beautiful break with sand bottom, warm water, and consistent beginner waves. Our lessons are taught in water that is usually less than 3 feet deep with sand bottom. It is a safe, playful environment for all ages and skill levels. With a variety of boards options, a great surf spot, and years of surfing knowledge, we are able to teach lessons almost 365 days per year.
Your Surf Lesson
Surf lessons are 1.5 hours long and all the equipment is provided. The lesson starts with "ground school" where proper technique is demonstrated and practiced for a few minutes to establish muscle memory. You'll also learn a few important techniques and ocean safety procedures before entering the water. After about 5 minutes on land, the remainder of the lesson is spent in the water. Your instructor will be with you the entire time and attentively coaching you. As you are guided onto each wave you will learn about timing, how to paddle, proper form, and discuss the different aspects of the sport.
Surf Lesson Prices
Our surf lessons are exclusive to private groups or individuals (no public or split groups). We give personal instruction that is either private (1 on 1 with the instructor) or exclusive to your group of 2 or more. We can accommodate as many people as you would like to bring. Our prices are as follows:
Private Lesson –

$120

One-on-one private lesson with your instructor. You'll get full, undivided coaching and instruction to help you improve the skills that you want to learn. 1.5 hours. All equipment included.

Small Group Lesson –

$80/person

Perfect for couples, families, friends, and any group of 2–4 people. You and your mates will learn to catch waves together and have a great time! 1.5 hours. All equipment provided.

Large Group Lesson –

$70/person

This is a great option for larger groups like teams, families and friends, or company team building activities. 1.5 hours. All equipment provided.
How To Book
Booking a surf lesson with SoBe Surf is really easy. Just click on the "Book Now" button, select your date and time, and then pay online. You can book from a cell phone just as easily as with any computer. You'll get a confirmation email with additional instructions after your booking is complete. That's really all there is to it!
Choosing A Date and Time
We are available for lessons 7 days a week. Lessons typically begin between 8 am and 5 pm. Mornings are the best time for surf and the parking is reasonable. Choose a time and date that would work for you and use the online reservation system. We can definitely arrange last minute lessons and do so frequently but advanced notice increases the likelihood we are available. For reservations within 24 hours of a lesson time, please call or email us rather than using the reservation system. We occasionally reschedule lessons in accordance with our customers' schedules to allow for better surf or weather.
Your Confirmation Email
After booking, you will be sent a confirmation email summarizing the reservation details and providing you with your instructor's name, phone number, and detailed address of where to meet with landmarks.
Where Do We Meet?
Our lessons are held near South Point on Miami Beach. We do not have a storefront because we offer services at different locations. Our boards are kept in storage and the instructor will drive out and meet you on South Beach during the scheduled appointment time. The exact address with landmarks will be clearly written in your confirmation email. Lessons are held by appointment only (we do not accept walkups).
* NOTE: Parking can be difficult on Miami Beach, and the walk to the lifeguard tower takes a few minutes. It is best to park at least 15-20 minutes before the lesson time. If we have consecutive lessons, tardiness might result in less surfing time. Always feel free to call your instructor if you are lost or need directions. We are here to help.
What Should I Bring?
It is best to consolidate your belongings before heading to the beach. Misplaced items or theft is rare but possible on Miami Beach, so it is better to be safe than sorry. You are going in the water and we have relatively secure locations to place things but there are no lockers available. Bathing suits, a towel, a cell phone (if available) and gratuity is all that you need…  gratuity of 10-20% are always appreciated if appropriate.
From November–February, wetsuits are optional on colder days. They can be rented from South Beach Divers on 850 Washington Ave, Miami Beach, FL 33139. This is only 8 blocks from our location. The store opens at 9 am and closes at 7 pm. Rentals are for 24-hour time slots and are very affordable.
Cancellation Policy
Payment will only refunded if cancellation occurs with at least 48 hours advanced notice or if cancellation occurs due to severe weather or conditions.
Severe weather cancellations are at the discretion of Sobe Surf and its staff. Otherwise, lessons will be held as scheduled in all safe conditions. We will charge for the full price agreed upon during booking and included in the confirmation email. No-shows or last minute decreases in the number of surfers will not decrease lesson price.
Minimal Surf
The first thing most people learn about surfing is that the ocean can be unpredictable, and the journey for the perfect wave never ends. We always attempt to book during the best conditions, but Mother Nature doesn't always cooperate, and surf forecasts can be incorrect. Fortunately it is usually advanced surfers who are constantly on the hunt for bigger and better waves. For beginner lessons, the fundamentals can be taught in almost any conditions and the motto "less is more" applies.
In the rare event that the waves are minimal, don't stress! Our instructors will bring the proper equipment and do everything they can to give you a memorable experience. The waves are less consistent on smaller days but traces, pulses, boat wakes, and the occasional set of waves still allow rides. During calmer conditions, we use a bigger board, which allows short rides on even the smallest swell.
Our minimal surf policy has turned lessons that would have otherwise been cancelled into the experience of a lifetime. Conditions change quickly so if you aren't on the water you might be missing out. Feel free to contact us with any questions about this policy.
Testimonials
Here are a few from others who have taken surfing lessons with SoBe Surf…
Had an awesome lesson with Bryan at SoBe Surf. Decided to book a lesson the day of and Bryan was a great instructor – he stayed with me in the water the entire time and walked me through how to paddle and stand up. Will definitely go back!
I had a great experience at SoBe Surf lesson. Bryan was a great teacher! He was very friendly and easy going. His explanations and lesson were very clear and easy to understand. I was able to stand up on the surf board and catch the wave a lot of times. Even when the lesson was over, he let me use the surf board for a while till he finished preparing to go back. After the lesson, he let me know the recommended places in Miami and gave me a lot of information. I strongly recommend to take a surf lesson at SoBe Surf!
I have wanted to learn how to surf for a long time. Contacted Margot at SoBe Surf and asked for a surfing lesson. Met this great girl Taylor at 1 and Ocean Drive on South Beach who for an hour and a half very patiently and professionally taught me how to get up on the board. It was so much fun, I almost want to get my own board and Taylor is a professional athlete so she really knows what she is doing and is very passionate about it. Can't wait to try it again!!!
Girard, you gave me a surf lesson over spring break. I just wanted thank you again. I absolutely loved it! You've inspired me to take some time this summer and travel. I've realized that traveling and meeting interesting people like yourself can teach you more than any classroom or text book ever could. It was a pleasure meeting you and I hope all is well. Thanks again! CARPE DIEM
Questions & Inquiries
Call us at (321)-926-6571 or send us an e-mail to get further information on surf lessons, stand up paddle lessons, board rentals and stand up paddle tours in Miami.
More Things To Do In Miami Beach
Check out these other things we offer:
We're Also In Cocoa Beach!
SoBe Surf is also located in Cocoa Beach! Here are some things that we offer there:
Ready To Surf?
Click on the button below to view our complete schedule and to book online. You'll be all set within minutes!