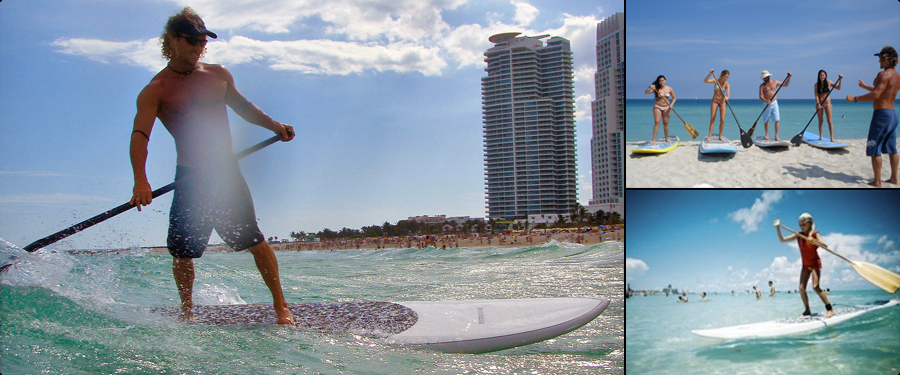 Stand Up Paddle Lessons In Miami
SoBe Surf offers stand-up paddle surfing lessons and instruction in Miami for all ages, skill levels, and abilities. We'll make sure you have that amazing experience of catching your first wave, and will help you build on that to become more proficient in the water.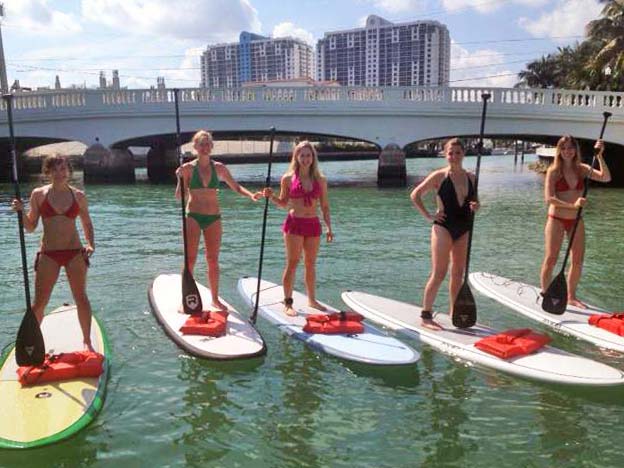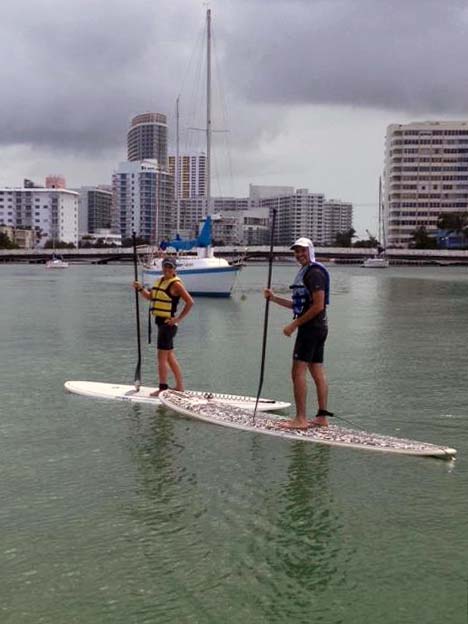 Why Choose SoBe Surf?
Sobe Surf is Miami's oldest and most respected surfing school. The staff is fully insured, certified, and maintains the highest reputation in facilitating healthy, positive and safe surfing experiences for our customers. All instructors are trained professionals carrying the Sobe Surf attitude of love, patience and a contagious enthusiasm for fun in the surf.
Our goal is to create an amazing surfing adventure and give you a healthy bonding experience for your family and friends. We take pride knowing that each customer's first ride is only the beginning. The lesson and supplemental information helps build a solid foundation so you can understand, appreciate and enjoy the sport of surfing for years to come.
Surfing is a fun, educational, and memorial experience regardless of your age or skill level. By the time we're done, we can only hope that each of our customers will embrace the sport like we have!
Surf Lessons include all the necessary instruction to have a great experience while learning to appreciate our oceans and understand the sport.
Complimentary guidance about boards, equipment recommendations, and further advice is always included.
Our instructors have years of experience in the water.
All experience levels welcome!
The SUP Lesson Location
Our SUP Lessons are held on 17th street of Miami Beach on the Intercostal Waterway. The 10 foot deep emerald colored water is protected by almost any wind direction and serves as Miami's finest paddle boarding location. The canals through the "Sunset Islands" are where we spend most of the lesson as we observe gorgeous real estate and marine life. Manatees, dolphins, tarpon, and a plethora of marine birds often grace us with their presence during tours.
Your SUP Lesson
Our SUP lessons are 1.5 hours long and all the equipment is provided. The lesson starts with "ground school" where proper technique is demonstrated and practiced for a few minutes to establish muscle memory. You'll also learn a few important launching techniques before getting in the water. After about 5 minutes on land, the remainder of the lesson is spent in the water. We will critique form and paddling technique for the first part of the lesson. The remainder of the time will be spent touring through the islands with your guide.
Our lessons are exclusive to private groups or individuals (no public or split groups). We give personal instruction that is either private (1 on 1 with the instructor) or exclusive to your group of 2 or more. We can accommodate up to 10 individuals for standard lessons. Please contact us for more than 10 person lessons.
Stand Up Paddle Lesson Prices
Our SUP lessons are exclusive to private groups or individuals (no public lessons or split groups). We give personal instruction that is either private (1 on 1 with the instructor) or exclusive to your group of 2 or more. We can accommodate as many people as you would like to bring. Our prices are as follows:
Private Lesson –

$130

One-on-one private lesson with your instructor. You'll get full, undivided coaching and instruction to help you improve the skills that you want to learn. 1.5 hours. All equipment included.

Group Lesson –

$80/person

Perfect for couples, friends, and families, as well as larger groups like teams or company team building activities. You and your mates will learn to catch waves together and have a great time! 1.5 hours. All equipment provided.
How To Book
If you're interested in booking a stand up paddle lesson, the process is easy! Read below for more details.
Choose A Date
We are available for lessons 7 days a week. Lessons typically begin between 10:30 am and 5 pm on weekdays and 9 am and 5 pm on weekends. Mornings are the best time for surf and the parking is reasonable. Choose a time and date that would work for you and use the online reservation system. We can definitely arrange last minute lessons and do so frequently but advanced notice increases the likelihood we are available. For reservations within 24 hours of a lesson time, please call or email us rather than using the reservation system. We occasionally reschedule lessons in accordance with our customers' schedules to allow for better surf or weather.
Confirmation
After booking, you will be sent a confirmation email summarizing the reservation details and providing you with your instructor's name, phone number, the price or balance due (if applicable), and detailed address with landmarks.
Where Do We Meet?
We do not have a storefront because we offer services at different locations. Our boards are kept in storage and the instructor will drive out and meet you on 17th street and Purdy Avenue during the scheduled appointment time. The exact address with landmarks will be clearly written in your "confirmation email." Lessons are held by appointment only (we do not accept walkups).
* NOTE: Parking can be difficult on Miami. It is best to park at least 10-20 minutes before the lesson time. If we have consecutive lessons, tardiness might result in less time on the water. Always feel free to call your instructor if you are lost or need directions. We are here to help.
What Should I Bring?
Belongings can be left in your instructor's vehicle for the lesson. It has never happened before but we are not responsible for theft of personal belongings. Bathing suits, a towel, a cell phone (if available), and enough payment for the lesson (if applicable) and gratuity is all that you need. We accept cash or credit and gratuity of 10-20% are always appreciated, if appropriate.
Cancellation Policy
Payment (deposits or full payment) will only refunded if cancellation occurs with at least 48 hours advanced notice or if cancellation occurs due to severe weather. If credit card information was placed on file, we will charge full price for the scheduled lesson in the event of a no-show or if cancellation occurs within 48 hours.
Severe weather cancellations are at the discretion of Sobe Surf and its staff. Otherwise, lessons will be held as scheduled in all safe conditions. We will charge for the full price agreed upon during booking and included in the confirmation email. No-shows or last minute decreases in the number of surfers will not decrease lesson price.
Testimonials
Here are a few from others who have taken stand up paddle lessons with SoBe Surf…
I was on the beach one day when I noticed a group of surfers standing on a board with a paddle. Very intriguing, I thought to myself. Minutes later, Girard introduced himself to me and gave me some information about paddle surfing. I was a bit hesitant at first, especially since I am a weak swimmer. I finally said yes. And, that turned out to be one of the greatest decisions of my life. Girard took his time and was patient when instructing me. Before I knew it, I was paddling on my own! I realized how amazing of an experience it was for me so I decided I wanted to pass on that awesome feeling to others. My company granted me some funds to do something charitable or to give back to the community. Instantly, Girard and I spoke and agreed to gather a group of foster youths for a day of paddle surfing. By this point, Girard's teaching had allowed me to gain enough confidence to teach the youths. It was truly a wonderful, heartwarming experience – both for me and for the youths. All I know is that I want a board and a paddle and a body of water to use it in.
Questions & Inquiries
Call us at (305) 773-1142 or send us an e-mail to get further information on surf lessons, stand up paddle lessons, board rentals and stand up paddle tours in Miami.
More Things To Do In Miami Beach
Check out these other things we provide in Miami:
We're Also In Cocoa Beach!
SoBe Surf is also located in Cocoa Beach! Here are some things that we offer there:
Ready To Go?
Click on the button below to view our complete schedule and to book online. You'll be all set within minutes!